Welcome to Glenarty Road…
We love a good yarn, so this 'about' page is longer than most, but it's worth the read if you would like to know more about our story and what we do! So, pour a glass of wine and settle in.
Sash handles the vines and wines from pruning through to bottling. She completed her Viticulture and Oenology degree in 2013 at Curtin University and learnt hands on skills doing vintages at Xanadu, Cullen and Chapel Down in the UK. It was the 2013 vintage at Cullen wines, which instilled her love for minimal intervention, sustainable grape growing and wine making.
Ben loves dirt. Some would say he is almost obsessed with growing things, earning him the endearing title of 'Young McDonald', who has a farm. At the ripe age of 19 he single handily planted our vineyard and has continued to evolve the family farm since.  With over 250 fruit trees, multiple vegetable gardens, a few thousand sheep and a hop field to tend to, he doesn't get bored too easily!
Together, we are the lucky custodians of 240 acres of rich and fertile soil in Karridale, Margaret River. This patch of land has been home to our family for five generations and we are so proud to be able to share it with you.
Today, we grow 10 varieties of grapes,16 varieties of hops, 250 plus fruit trees and a vegetable garden we have always dreamt of. We have 26 acres under vine and grow Semillon, Sauvignon Blanc, Chardonnay, Viognier, Muscat, Shiraz, Savagnin, Vermentino, Fiano, Pinot Noir and Malbec.
It is our vision to sustainably farm fresh produce, make creative wines that are an honest reflection of our land and encourage people to share, enjoy and celebrate life.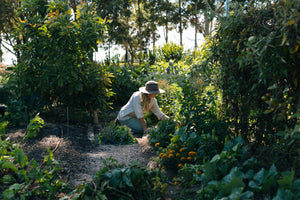 Every day we tend to and harvest our seasonal vegetable garden which is grown using regenerative practices and produces approximately 80% of our kitchen needs. We raise 1300 wool shedding sheep (Ultrawhite and Sheepmaster), a few Square Meter Cattle and a growing family of pigs.
Sustainability is at the core of everything we do. We respect the land and farm for tomorrow.
We like to do things a little different.  We love the term agricultural; we see it as a way of thinking laterally and being responsive to what mother nature throws at us.  We take this approach from 'Ground to Glass' and 'Farm to Table' ensuring that what you are tasting is a true representation of the site, the season and a bit of hard science.
We believe that great wine reflects the vineyard, and for us this is where it all starts. Our vineyard has its roots in Karridale, the southernmost grape growing region in Margaret River. Being the cooler sister to the rest of the cape allows us a few impassable benefits. Extreme heat events in the growing season are moderated, preserving the delicate phenolics in our whites and enhancing the spice and savoury characters in our reds. You can even feel the difference in the air, just come visit us and see for yourself.
As custodians of this land we endeavour to use sustainable farming methods to promote a healthy, balanced ecosystem. Sheep graze amongst the vines for 6 months after harvest in order to control weed pressure, as well as improving soil productivity by adding extra nutrients to the cycle. Bug pressure under vine is taken care of by our chickens and Guinea fowl, whilst beneficial bugs are seeded into the vine canopy for bunch protection. We look at this as the dance of the vineyard, with all the elements playing a vital role in the overall heartbeat of the farm.
Our passion is to provide an honest experience by showcasing our backyard and sharing our stories. We love to engage the senses and inspire the creativity of our customers.
Our Glenarty Road collection that came to life in 2014. It is the combination of Ben's hard work in the vineyard and Sash's creative and respectful wine making philosophy. The wines are made for adventurous wine lovers who are a little wild at heart. A collection of small-batch wines, that explore alternative and traditional varieties. Made in a minimal intervention style, with natural yeast and low sulphur. Each wine is wild fermented in French oak barriques or 500L amphoras. Amphoras are terracotta vessels imported from Tuscany, Italy. They are porous, allowing the wine to breath, softening the tannins, driving the fruit flavours and capturing the unique and vibrant character of our vineyard.
Kerfuffle; noun. A commotion, disturbance or fuss. Kerfuffle is a humorous-sounding word for a mostly non-humorous situation: some kind of disturbance, scandal or mess. Ben started causing a Kerfuffle in 2002 making the SBS and Shiraz which he traded with mates. Like Ben, a kerfuffle usually isn't 100% serious. So, Kerfuffle wines are made for the regular appreciators. Best enjoyed with great mates and bbq. They are bloody good and bound to cause a Kerfuffle!
All of our wines are made with a hands-off approach. We trust our intuition and knowledge, for each winemaking decision ensuring each parcel is looked after individually. Both the Glenarty Road and the Kerfuffle wines are made from fruit grown on the farm. 
We collaborate with Japo Dalli Cani and Henry Wynne to make our wines at McHenry Hohnen on Rocky Road in Witchcliffe. Japo and Henry drive the winemaking process under Sasha's consultation. We are grateful to work with Japo and Henry to create wines that are a pure expression of our site and the cool climate of Karridale.
Okay, time to top up your glass… we are taking it back to the start!
In the early 1940s, Ben's great Grandfather Thomas Hubert McDonald boarded a train from Wickapin, settling on McDonald Road. A few years later, his eldest son William "Aussie" McDonald (Ben's Grandfather) left the family farm and founded this farm on Glenarty Road after it was left abandoned as part of the Group Settlement Scheme (GSS). Under the GSS you were required to clear 5 acres of virgin bushland per year in order to continue to lease the farm, until land rights were granted.

Aussie cleared or ringbarked large jarrah and marri trees in order to let the sunlight in to germinate grass, enabling livestock on the farm. The farm continued under a subsistence agriculture model - cows for milk & cream, whey fed to pigs for food and veggies grown in a loamy soil backyard, until Peter McDonald (Ben's father) took over the farm in the 1960s and turned the farm to sheep. Ben decided to diversify and study a diploma of Viticulture, while he helped to plant the Alexander Bridge estate (now the Vasse Felix Karridale property). Going on to plant the home vineyard in 1997. However, he has always been a sheep farmer at heart, so he continued Peter's legacy by establishing Margaret Grass-Fed Lamb, working to enhance the biodiversity of the farm. 
We aren't ones to get into the mushy stuff, but lo and behold, it was wine, fate and some good friends that brought us together and started this amazing journey! We were in the driveway at 70 Glenarty Road in early 2014. Sash was at the farm to buy some Shiraz fruit to make her own wine label and Ben was more than fashionably late to the meeting, after a long morning surf!  
At this point Ben had decided he had enough of viticulture, and he was going to pull out the vineyard. So, he had brought himself a new surfboard and booked a month's holiday to Byron Bay. Sash was a budding young winemaker full of passion, drive and skill. It was three days before Ben was due to leave when we met, which completely changed our course. We got know each other well, through the process of picking and making a cracking good 2014 Shiraz. Then the dreams to create what we have today started to brew! (if you would like to know all the goss check out the Wine Unearthed Podcast)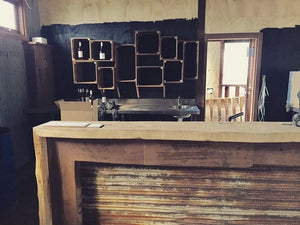 The Cellar Door naturally evolved as great way to share our wines and fresh produce. It officially opened in July 2017, after converting the original farm workshop built in the 1950s by Aussie McDonald. The timber for the tasting bar, walls and tables are from fallen marri trees milled on the farm and hand-crafted by Ben and his mates. The Restaurant coincidentally evolved and opened in December 2017, after hosting our wedding reception and feeding 150 of our loved ones. We realised food completed our unique farm offering, giving us the ability to turn our rich soils into enjoyable delights for the eyes and mind.
We want to give our customers the chance to see how much fun it is to make a product with their own hands and to see the value in the handmade, unique, creative methods of making wine and growing food.
Our inspiration for the wood-fire grill came from one of the most memorable dining experiences of our lives at Dario Cecchini's restaurant in Tuscany. Where we feasted on the finest Chianina beef cooked over a custom wood-fire. This amazing experience inspired Ben to build our epic wood-fire grill and add our beautiful big Chianina's to the herd.
Collectively, our little farm brings together our Glenarty Road and Kerfuffle wines, grass-fed meats, seasonal produce and local goods from our neighbours in a relaxed and rustic setting. 
We are incredibly proud of what we have created. Our humble little home has woven itself into the region's amazing food scene and brought a new way of dining to the southern Margaret River. We have watched the evolution from a beautiful site without a voice, to our first walking tour and the ongoing joy people get from visiting and experiencing our farm.
So, we have definitely rambled for long enough and you are amazing as you have made it through what is possibly the world's longest 'about' page. Thank you for taking the time to read this monolog about our journey and for supporting our vision. Now pour another wine (because you deserve it!) and we look forward to welcoming you to the farm soon! Cheers!
Lots of love, lamb and good wine always,
 Ben, Sash and The Glenarty Family xx
Ps. As you have taken the time to get know us, we would love to do the same. Please follow us on Instagram or Facebook and reach out at info@glenartyroad.com.au. Thanks again!