Welcome to our wine bar.
a relaxed place where you can experience and enjoy our wines. we love sharing our wines and the honest stories behind making them and how you can best enjoy them. perch up at the bar or laze on the lawn to try our creative collection.
Wine Tasting Menu
Traditional Taste | $10
for a little taste of glenarty goodness, perch up at the bar for a casual tasting of 4 wines with some freshly baked bread and a house-made cheese.
no bookings required.
Wild Wine + Farm Food | $35
a wild wine and farm food experience. explore our collection of wines through a curated and in-depth comparative style tasting with a spread of freshly baked bread, house-made cheese, farm snacks and charcuterie. bookings recommended.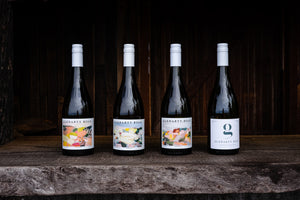 Wine Bar Menu
Graze the Day Away
Graze the day away with a seasonal spread of house made meats, cheeses, garden salad, pickles, preserves, and our baked sourdough bread.
11:30 - 2:30pm | wednesday to monday
subject to availability
Wine the Day Away
relax and enjoy our wines by the glass, carafe or full bottle.
10 - 5pm | wednesday to sunday |
no bookings required
Where Good Things Grow
wander into the depths of our regeneratively raised kitchen garden for an informative and inspiring walking and talking tour. then let the garden path lead into an insightful wine tasting with a spread of food foraged from around the farm.

Forage on the Farm
experience beyond the farmhouse, on a food and wine foraging adventure. on our journey through the farm, you will taste and enjoy the wines right at the source with a spread of fresh seasonal produce, farm snacks and house made charcuterie.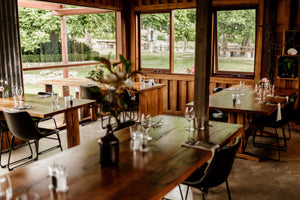 Restaurant Guests
if you are joining us for a farm feast experience, we recommend arriving at least 30 minutes before your booking so you can enjoy a relaxed and in depth tasting. taste six wines for $10 - redeemable on takeaway wine purchases (for diners only).
Farm gates open
| WED - SUN |
wine bar - 10am to 5pm
farm feast - 11:30am to 2:30pm
| MON |
wine bar - 10am to 4pm
farm feed - 11:30am to 2:30pm