Meet our team.
This is the dream team that bring our food and wine vision to life! They are all very special to us and they each share our passion to provide you with an honest, wholesome and real experience; to showcase and share the stories of our patch of land.
This is your invite to virtually meet our team, so you feel right at home the next time you visit and we all look forward to welcoming you soon...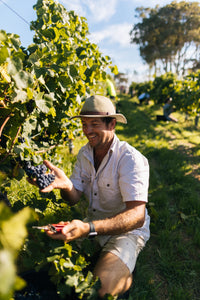 Ben McDondald
OWNER + VITICULTURIST + FARMER
Ben has been born and breed on Glenarty Road, which is what he most grateful for. He is loves the land and being creative, inventive and adventurous. His favourite thing to do apart from farming and being with family is boating and fishing. Which is fitting that his favourite place on earth is Hamelin Island. He has some classic Dad jokes which are getting better or worse every year and his life motto is, go hard or go home!
Favourite Glenarty Road wine – 2020 Pinot Noir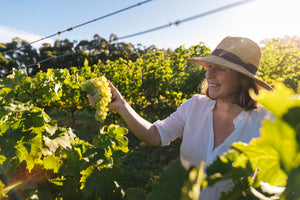 Sasha McDonald
OWNER + WINEMAKER
Our lady with a dream, a passion and the drive that has made Glenarty Road what it is today. Sash lives by her life motto and this to do what you love, and you will never work a day in your life! So, when she is not working to create this amazing food and wine experience, she is enjoying it and maybe sabering a few bottles of bubbles. She is most grateful for living in the Southwest with beautiful family and friends amongst the pristine farmland and environment.
Favourite Glenarty Road Wine – All the 2020 wines, especially the Chardonnay + Rose + Vermentino/Fiano.
Junior McDonalds
Archer + Scarlet + Maxwell
Peter McDonald
OLD MCDONALD
Our Glenarty Road collection that came to life in 2014. It is the combination of Ben's hard work in the vineyard and Sash's creative and respectful wine making philosophy. The wines are made for adventurous wine lovers who are a little wild at heart. A collection of small-batch wines, that explore alternative and traditional varieties. Made in a minimal intervention style, with natural yeast and low sulphur. Each wine is wild fermented in French oak barriques or 500L amphoras. Amphoras are terracotta vessels imported from Tuscany, Italy. They are porous, allowing the wine to breath, softening the tannins, driving the fruit flavours and capturing the unique and vibrant character of our vineyard.
Jess Widmer
HEAD CHEF
Every day we tend to and harvest our seasonal vegetable garden which is grown using regenerative practices and produces approximately 80% of our kitchen needs. We raise 1300 wool shedding sheep (Ultrawhite and Sheepmaster), a few Square Meter Cattle and a growing family of pigs.
Sustainability is at the core of everything we do. We respect the land and farm for tomorrow.
Abi Kearns
Have you met Abi, our talented and always smiling restaurant supervisor?

Abi joined us just a few months ago, but armed with stacks of experience. Hailing from Dublin, Ireland, Abi's fav Glenarty Road wine is the 2022 Pinot which she describes as 'complex, yet easy drinking'

When Abi isn't serving our delightful customers, she can be found enjoying nature walks, painting, enjoying a beach swim and of course, drinking pinot by the fire.
Kesha Dean
PROVIDORE QUEEN + BOH WARRIOR
If you've ever wandered through our lush veggie gardens, you've probably met Kesha. Calling Augusta home for the past twenty years, Kesha has been a big part of the Glenarty Road family for the past year.

Tasked with picking fresh herbs, veggies, flowers and other goodies for our kitchen, Kesha works tirelessly with our chefs as kitchen porter and Providore Manager to give our guests the best possible experience!
Favourite Glenarty Road wine – Chardonnay because it's elegant, crisp and matches seafood brilliantly.
Jarrod Attenborough
Jarrod, a trusty side kick to our head chef Jess. Bringing years of experience to the Glenarty Road kitchen, Jarrod has a broad knowledge on all things food, including growing it and cooking it on our bbq! When he isn't cooking your lunch, he loves to hit the beach or bush with his family and enjoy a few glasses of our Fume Blanc. Cheers Jarrod!
Elena Panova
Have you met our Cellar Door superstar Elena? If you've visited lately, you've probably been greeted by Elena's beaming smile and learnt a thing or two about wine thanks to her extensive knowledge on the subject!

Elena (pronounced Ya-Lena) hails from Russia, but recently moved to Margaret River after a stint working at a boutique bottleshop in Sydney. Elena's passion for wine is what led her to Glenarty Road, where she has fallen for our Semillon. Elena describes it as having freshness, balance and serious complexity, with potential for aging.

When not pouring wines, Elena loves surfing, cooking up a wholesome brunch and visiting Margaret River's array of stunning wineries.
Tom Porter
Use these sections to promote a particular feature with editorial photography.
Matt Mcintyre
Use these sections to promote a particular feature with editorial photography.
Martine Surprenant
Use these sections to promote a particular feature with editorial photography.
Jacqui Warrick
Use these sections to promote a particular feature with editorial photography.
Tyron Bradshaw
Use these sections to promote a particular feature with editorial photography.
Marie Poulin
Use these sections to promote a particular feature with editorial photography.
Jarrah Ashby
Every kitchen needs a trusty apprentice! Our kitchen crew is lucky to call Jarrah their own, with a positive attitude and solid work ethic to boot. Jarrah gives Glenarty Road his all, learning everything he can from head chef Jess and here experienced team in return.